About Us – Healing Herbs – Dried Herbs Online
About Us - Healing Herbs - Dried Herbs Online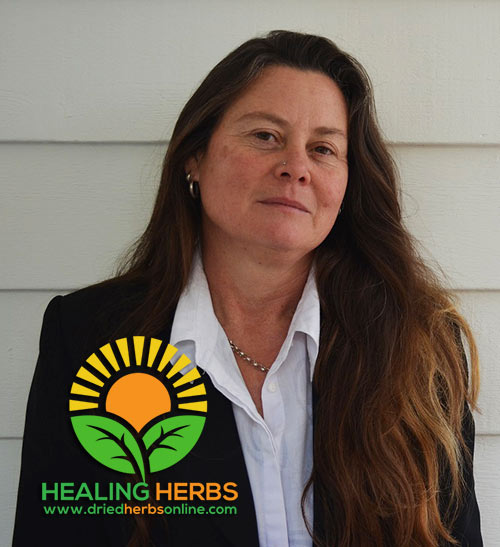 About Us
Louise Plant  is the founder of a family business which has been established since 1999. Formally The Herb Grower's Network of WA which was based on a 175 acre biodynamic farm. Here they grew, dried, processed and manufactured a wide range of herbs and herbal products. Now the Dried Herbs Online business has relocated to a smaller acreage in the NSW Rainbow region.
Louise the brains of the organization, is a Master Herbalist who has been qualified and accredited for over 30 years. She is currently teaches holistic nutrition, lifestyle management, wellbeing strategies, herbal medicine and offers a wide range of herb and health courses online.
THE COMPLEMENTARY HEALTH INSTITUTE
Her herbal expertise is in herbal horticulture, botany, manufacturing and phytochemistry.
She has been teaching and practising in this time and has witnessed many amazing healing herb situations. She has plenty of stories to tell. Herbs and nature are her passion and she loves seeing people improve their wellbeing using Mother Nature's gifts.
Follow her antics by visiting the Following Links:
Disclosure
The information contained on www.driedherbsonline.com is presented solely for general informational purposes only.
NOTHING CONTAINED ON THE WEBSITE IS INTENDED TO CONSTITUTE, NOR SHOULD IT BE CONSIDERED, MEDICAL ADVICE OR TO SERVE AS A SUBSTITUTE FOR THE ADVICE OF A PHYSICIAN OR OTHER QUALIFIED HEALTH CARE PROVIDER. WE MAKE NO ASSURANCES OF THE INFORMATION BEING FIT OR SUITED TO YOUR MEDICAL NEEDS, AND TO THE MAXIMUM EXTENT ALLOWED BY LAW DISCLAIM ANY AND ALL WARRANTIES AND LIABILITIES RELATED TO YOUR USE OF ANY OF THE INFORMATION OBTAINED FROM THE WEBSITE.  YOUR USE OF THE WEBSITE WILL NEVER CONSTITUTE A DOCTOR PATIENT RELATIONSHIP.